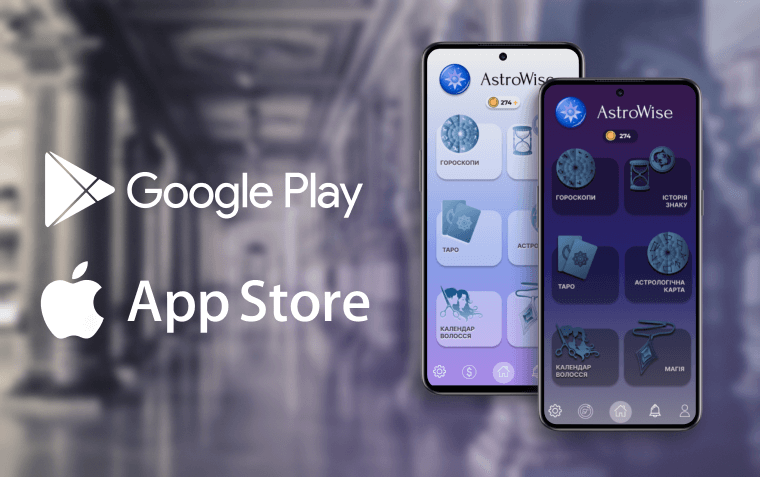 Astro Wise
Mobile App Design: Where Art Meets Technology
In the modern world, mobile apps have become an integral part of our lives, serving as essential tools for communication and entertainment while also reflecting our lifestyle. Mobile app development is a process that combines not only technological advancements but also the art of design. Let's explore how these two aspects come together in creating a mobile app that offers daily horoscopes, an in-depth zodiac sign history, and even entertainment features like Tarot card readings, as well as providing valuable advice in the hair care calendar.
The Role of Mobile Apps in the Modern World
Mobile apps play a pivotal role in the advancement of modern society, simplifying our lives and providing access to various functions and information at any time. An app offering horoscopes, zodiac sign history, Tarot card readings, astrological charts, and a hair care calendar can become a unique and valuable tool for those interested in astrology and cosmetology.
Mobile App Design and User Interface Design
Mobile app development goes beyond programming; it's essential for the app to be intuitive and visually appealing. Design tools like Figma, Photoshop, and Illustrator are used to achieve this.
Mobile app design involves creating logos, icons, screen layouts, choosing color palettes, and more. It's crucial to adhere to user interface design (UI/UX) principles to ensure that the app is user-friendly and enjoyable to use.
App Features
1. Horoscopes: This feature allows users to read their daily horoscope, and receive advice, and predictions for the future.
2. Zodiac Sign History: Brief descriptions of each zodiac sign, including their characteristics and traits.
3. Tarot Card Readings: Dive into the mysteries of Tarot card readings, offering answers to users' questions.
4. Astrological Chart: Users can create their personal astrological chart and receive an analysis of planetary positions and their influence on their lives.
5. Hair Calendar: For hair care enthusiasts, the calendar provides recommendations and tips for maintaining the beauty and health of their hair.
The development of a mobile app with the above-mentioned features combines the art of design with cutting-edge technology, providing users with a seamless and enjoyable experience. Mobile app design, user interface design, and other design aspects play a crucial role in bringing this multifunctional app to life.
From a designer's viewpoint, creating a mobile app is an intricate dance between aesthetics and user experience. Every element, from icons and color choices to the layout and interactive elements, must be thoughtfully designed to make the app visually appealing and easy to navigate. The app's design should not only be eye-catching but also functional, ensuring that users can access and utilize its features effortlessly.
In the case of this multifunctional app, the challenge lies in harmonizing various elements, from the mystical allure of Tarot cards to the practicality of a hair care calendar. Each feature should have its unique visual identity, ensuring that users can easily distinguish and interact with them.
The success of a mobile app ultimately depends on the synergy between technology and design. A well-designed app enhances user engagement and satisfaction, making it more likely for users to return and recommend the app to others. Design is the bridge that connects users to the capabilities of technology, making the app not just functional but also delightful to use.
CHALLENGE
Make UI/UX design for mobile app
Develop a platform for providing information on mobile app
Build the structure of the pages, taking into account the addition of new content
Develop information display logic

TECHNOLOGIES

The following technologies and tools were used to implement the project:
Figma
Photoshop
Illustrator
Inclusive Design
Design